Speakers Rise to the Challenge at First ITS Pecha Kucha

The first ITS Pecha Kucha took place September 19 in the President's Room of Woolsey Hall. (Photos by Carl Kaufman/ITS Photo & Design)
(Submitted by Roger Ngim, Associate Director, Communications and Marketing)
More than 175 ITS staff members and IT partners crowded into the stately President's Room at Woolsey Hall last Thursday for the first ITS Pecha Kucha, an afternoon of entertaining and informative presentations on the work we do in ITS.
Invented in 2003 by two architects working in Tokyo, Pecha Kucha is a highly structured presentation format that consists of 20 slides, each of which is shown for 20 seconds, making each presentation precisely six minutes and 40 seconds. Speakers are challenged with being concise and coherent while keeping pace with the slides as they automatically advance. Pecha Kucha events are held regularly around the world, including in New Haven.
For the ITS event, the nine speakers, representing the organization's main divisions, developed their own topics and presentation styles. Dan Powell delivered his talk on the Cadence of ITS partially in pirate speak in honor of International Talk Like a Pirate Day, with the audience punctating his talk with "arrggh!" at appropriate moments. Lauren Kerrigan drew an emotional response from the crowd as she connected research technologies with the beneficiaries of the research—our families, friends, neighbors, colleagues, and us. Dave Galassi hilariously channeled Jack Nicholson in "A Few Good Men" as he described Yale's network.
All of the speakers performed admirably. They were:
Tom Castiello, Project Lead (Information Security): "Keeping Yale Secure"
Darrell Cook, Director, Solution Development (Business Systems Group): "Kindergarten, Here I Come!" (the new employee experience)
Dave Galassi, Director, Network Services (Infrastructure Services): "A Visual Tour of the Network"
Glenn Hasiotis, Suppport Specialist (Shared Solutions): "IT and Public Safety"
James Kammerman, Director, Service Operations (Campus Community Technologies): "From Intranet to Portal to Hub"
Lauren Kerrigan, Associate Director (Health & Medicine IT): "Whom Are We Serving?" (health researchers and the beneficiaries of their work)
Pam Patterson, Academic Technologist (Academic Information Technology Solutions): "The Journey of Scholarly Research" (research technologies)
Dan Powell, Strategic Business Analyst (Office of the CIO): "The Cadence of ITS"
Loriann Seluga, Associate Director (Campus Technology Services): "The Student Technology Collaborative"
Roger Ngim, Associate Director, Communications and Marketing (Office of the CIO), organized and was emcee at the event.
The Pecha Kucha was part of an ongoing effort to promote cross-team communication within ITS to keep us better informed of other teams' activities and to foster innovation by cross-pollinating ideas and knowledge across the organization.
If you are interested in participating in future ITS Pecha Kucha events, please contact Roger Ngim.

James Kammerman spoke on the Hub project.

Glenn Hasiotis talked about IT and public safety.

Dan Powell explained the Cadence of ITS ... aarrgh!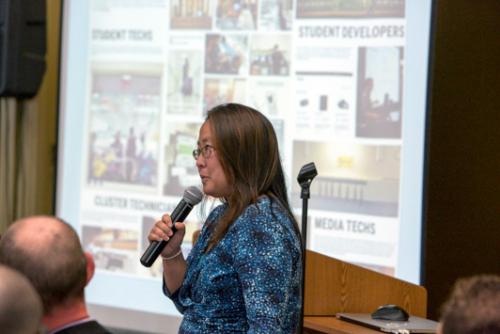 Loriann Seluga talked about the Student Technology Collaborative.

Tom Castiello's topic was "Keeping Yale Secure."

Darrell Cook compared beginning a job with ITS to the first day of kindergarten.

Lauren Kerrigan drew connections between research technologies and those it serves.

Dave Galassi took the audience on a visual tour of the Yale network.

Pam Patterson explained how technology support's Yale's researchers.