ITS Pecha Kucha 2 - March 13
The second ITS Pecha Kucha, an afternoon of ideas and information presented in a brisk and entertaining format, will take place March 13, 2014.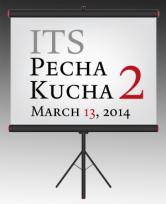 In a Pecha Kucha presentation, each talk lasts 6 minutes 40 seconds and is structured around 20 presentation slides shown for exactly 20 seconds each. The format originated in Japan in 2004 and has spawned Pecha Kucha events in cities around the world, including New Haven.
The first ITS Pecha Kucha took place on September 19, 2013, and featured nine ITS staff members speaking on topics ranging from research technologies to the Cadence of IT. More than 300 people attended that event in the President's Room of Woosley Hall and the buzz it generated continues.
Presenters
Wendy Battles: Healthy Eating and Workplace Productivity
Ricardo Chavira: IITL in a Nutshell
Terry Dagradi: The Cushing Brain Collection
Ed Frey: Vendor Management and the Call to Stewardship
Paul Gruhn: The Integration Community of Practice
Richard Horne, Kate Nimety, and Deepti Pradhan: Fundraising Analytics at Yale
Adriene Radcliffe: Creating Personal Visibility Through Social Media
James Shamas: Implementing a Software Development Lifecycle
Casey Watts: System Optimization in Everyday Life
ITS Pecha Kucha 2
Thursday, March 13, 2:30-4:30 p.m.
President's Room, Woolsey Hall
500 College St.