CTO Susan Kelley: Bringing Technology Vision Into Focus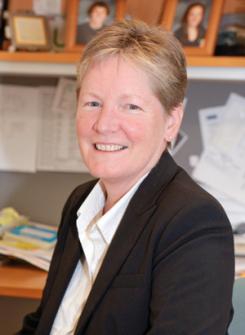 (Submitted by Christine Costantino, Project Manager)
Susan Kelley has reason to celebrate. Not only was Susan named Chief Technology Officer for Yale Information Technology Services on September 1, she recently marked her 25th anniversary as a Yale employee. Project Manager Christine Costantino, Co-Chair for Communications for Women in IT @ Yale (WIT), sat down with Susan to talk about her career and new role as CTO.
WIT: What brought you to Yale and how long have you been here?
Susan: I came to Yale to enroll in graduate school for sociology. As a social sciences student, I learned statistical analysis packages and this led to working part-time as a programmer and IT support specialist for other graduate students and faculty. Eventually, I decided I would rather work in IT than in pure academia. So I started in the academic arm of Yale's central IT organization.
WIT: How has your career progressed since?
Susan: My first full-time role was as a systems programmer installing software. I moved on to operating systems work and eventually to managing a small team of technical staff. As the application portfolio grew and more technical resources were added, I managed multiple teams. In 2002, I became the Director of Production Services, managing systems administration, database administration, and operations teams.

Not long after Len Peters came onboard, I was promoted to Senior Director during the reorganization that combined the Production Services and Network Services groups. I've progressively taken on more responsibilities and broader scope.

WIT: What helped propel you to becoming Chief Technology Officer? Did you have any mentors?
Susan: For me, having a strong technical background was extremely important.
My academic experience has also been very helpful in understanding the broader university, looking beyond IT.
I have always found colleagues very welcoming and supportive. I have found people willing to share expertise and learning; I've worked with very strong colleagues and very strong staff over the past decade—really top-notch staff.

WIT: How have you managed balancing work & life?
Susan: I have a very supportive husband, and Yale offered all-important flexibility when my two children were young.

WIT: What are your plans for Yale as CTO? What are some of the first things you want to accomplish?
Susan: In interviewing for this new role, I presented main objectives, vision, and strategy for this role:
To ensure technology aligns with and contributes to Yale's success
To establish and operate governance related to decisions on technology
To develop standards and guidelines linked to a future-state vision
To track and assess technology trends
I will lead the Technology Architecture Committee (TAC), which meets to consider technology architecture standards; to apply an enterprise-wide perspective to business, application, data, and infrastructure architecture domains; and to sponsor alignment across the portfolio of major technology initiatives.
I look forward to meeting with lots of different people about what this role should be, what we can do and how we should operate, especially with Len's directs, TAC members, and IT leaders and partners. Doing a lot of outreach and getting feedback is very important to this role and to developing a shared technology vision.
WIT: Do you have a philosophy of technology in higher education?
Susan: Alignment with the university's goals, not technology for technology's sake.
WIT: What are some of your specific ideas regarding bringing technology innovation to Yale?
Susan: As do so many of us in technology roles, my team and I will be tracking and assessing technology trends, and looking for ways to incubate emerging technology at Yale. Working with our IT partners will be especially important in this area since smaller teams can more easily try new things.
Broad application of innovative technology is challenging, and that's why it's so important to reach out and talk to other groups. We have so many strong partners and talented people working in IT with ideas and plans. The fun part will be developing a shared technology vision.

Susan Kelley and CIO Len Peters at Susan's 25th anniversary surprise celebration on October 15. (Photo by Janet Jeddry)
Portrait at top by Jerry Domian/ITS Photo & Design.