Diversity Trends and WIT@Yale Survey
General Diversity at Yale ITS
Both gender diversity and ethnic diversity (as reported by the individuals) at Yale ITS is tracked quarterly and reported out to leadership. Here are the gender and ethnicity diversity numbers reported to the CIO directs. As you can see, both female and ethic diversity is trending up.
Our biggest challenge is finding pools of qualified candidates, so we must work together to find creative ways to build pipelines of candidates with skill sets that represent the technology trends we expect to see in our areas of growth. One of our goals for the year will focus on purposeful recruiting, and you will hear more about that at our annual meeting.
The WIT Survey
When WIT@Yale hosted our inaugural meeting in April 2013 , we followed-up with a survey asking two simple questions:
"On a scale of 1 to 5, with 5 being very supported and 1 being not supported at all, please answer the following questions:
I feel supported as a woman in a technology role at Yale
In general, I feel women in technology roles at Yale are supported"
At our one year anniversary in May 2014 following our "Women in IT: Path to Leadership" event we asked the same questions again. Here are the results of that survey: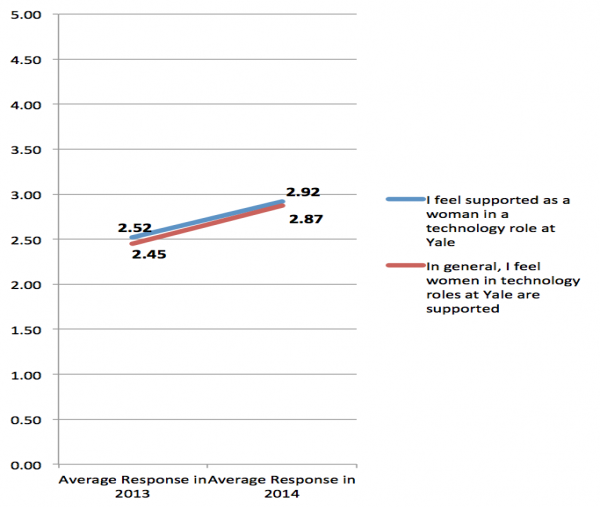 So while there are improvements in the perception of being supported in a technology role at Yale, we still have a ways to go. In the coming year we will be asking our constituents for more information about this, and we will incorporate appropriate issues or barriers into our goals.